Our Expertise
Founded in 1999 our shop has been meeting the needs of commercial customers who need a quality laser mark for 24 years.
Laser engraving has been around for decades but is continuing to reach into new industries.
We are reaching into those industries with confidence and educating new customers in how laser engraving can add value to their products.
Our customers value our willingness and ability to create unique workflows and processes to mark materials other companies find too difficult to work with.
Our Commitment
Weigel's Laser Engraving will always be focused on three things.
A high-quality mark, at a fair price, with a quick turnaround.
With these in mind, we look forward to continuing our growth and meeting the needs of new customers who present us with challenging and interesting projects.
"I had 17 years experience in the engineering industry prior to becoming a laser engraver. That gives me an appreciation for specifications and tolerances. If we can't hold to a tolerance or meet a specification as given by the engineer we will pursue a variance that seems reasonable, or walk away. We have taken on lots of jobs that other groups attempted, but by ignoring the specs failed and didn't get another chance. Our engineering background makes talking through complicated projects with engineers enjoyable because we speak the same language.

We know the right questions to ask to keep a project moving."

Rob Weigel, Owner
Our Shop
We utilize high-quality lasers in a controlled environment which helps keep our lasers running strong year after year.
Our shop never has to call out customers and tell them their project is delayed due to a down laser.
We also maintain our own lasers, so when we have a problem, we can fix it, and quickly get back to work.
We stock or have quick access to the plastic and aluminum sheet materials we supply to our customers for placards.
Finally, for custom cut stainless, we will keep extra stock on hand for repeat projects making for a quicker turnaround.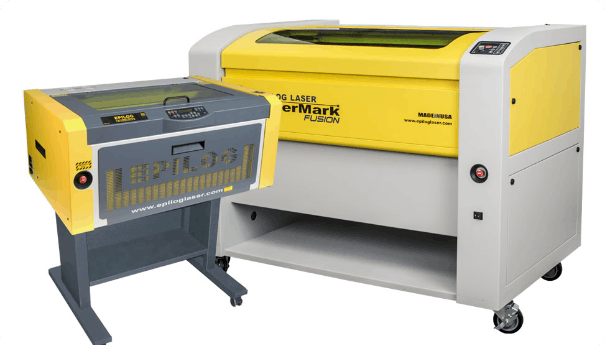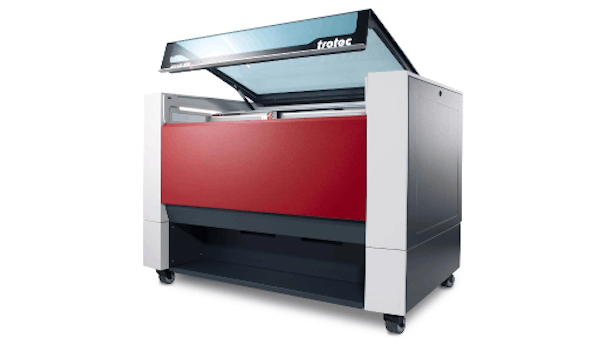 Our Equipment
Having multiple lasers allow us to take on high quantity production projects while still serving our small batch customers.
Epilog laser is the finest laser manufacturer in the USA. Assembled in Golden, Colorado, they have been producing high-quality lasers for decades. Our CO2 laser set includes a 45 watt, a 60 watt, and a 120 watt machine.
Our first fiber laser was an Epilog FiberMark 50, which is a 50-watt fiber laser. We chose the 50-watt due to its being able to more quickly penetrate the surface of a material. It has a 24″x12″ laser bed footprint.
When the need for higher capacity and a larger laser footprint became necessary, we purchased a 50-watt Trotec Speedy 300. This German-engineered laser raised our footprint to 28"x17" and added a very useful precision rotation device.
Our Reach
Though based in Portland Oregon, we have served customers all over the United States, including Alaska.
As such we take our return shipping service very seriously.
We use UPS as our exclusive in state and interstate shipper, various couriers in the greater Portland area for same day service and personally deliver some items directly to our customers who are based in Oregon.
We take pride in our shipping and will re-box any shipment for return that arrives in a less than quality shipping carton. We use 200lb crush strength ULINE shipping boxes for all our shipping.